Glenn Ligon: Untitled (Two White/Two Black) & Runaways
Wednesday April 23, 1997 - Friday May 30, 1997
Untitled (Two White / Two Black)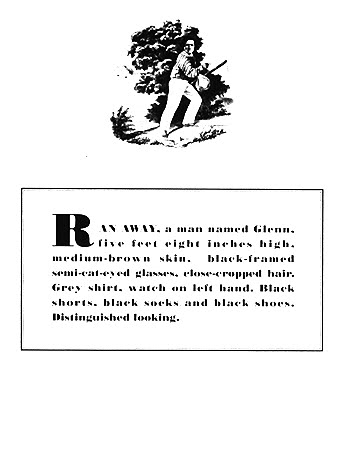 Runaways
These two sets of prints by Glenn Ligon (B.A. Wesleyan 1982) were on view at the DAC from Tuesday 25 March through Sunday 1 June 1997, in conjunction with the installation of Ligon's recent work Day of Absence in the Ezra and Cecile Zilkha Gallery from 23 April through 30 May 1997.
"I consider all the work I've done," Ligon states, "self-portraits filtered through other people's texts." John S. Weber has pointed out that Ligon's self-images have made explicit "the deeply personal nature of the artist's engagement with the question of how African Americans' presence has been recorded, represented, and written into history, both by themselves and by others." Language has played an essential role for the artist, who is eloquent both in his own words and in his visualization of the words of others. Recently, Ligon has worked without texts. In the Zilkha Gallery exhibition Day of Absence, he used adapted news photographs to explore issues about the collective experience of African Americans and the Million Man March from one gay male's point of view.
Please visit our online display of images from works shown in this exhibition:
Glenn Ligon has had solo exhibitions at major museums including theSan Francisco Museum of Modern Art, the Brooklyn Museum, theHirshhorn Museum and Sculpture Garden, and the Whitney Museum of American Art. He has exhibited widely in group shows such as the Whitney Museum's 1991 and 1993 Biennials. His first exhibition, of abstract paintings for his Wesleyan Senior Thesis in Studio Arts, was presented in the DAC fifteen years previously.
The artist spoke about his work on Wednesday 23 April 1997 at theCenter for the Arts Cinema.
Also in the late spring of 1997 (from 25 March through 25 May), Wesleyan's Mansfield Freeman Center for East Asian Studies presented an exhibition of Hiroshige's Tokaidôwoodcuts, curated by 1996 Wesleyan graduates John Blake and Jay Breitling from the DAC'sukiyo-e holding