New on View: Recent DAC Acquisitions
Wednesday January 24, 2001 - Friday March 9, 2001
The Davison Art Center exhibition for the winter of 2001 presented a selection of works added to the DAC's permanent collection in the last five years. Comprising gifts and purchases in diverse media, these acquisitions underscore the vital role played by the Friends of the Davison Art Center and individual donors in developing the DAC collection.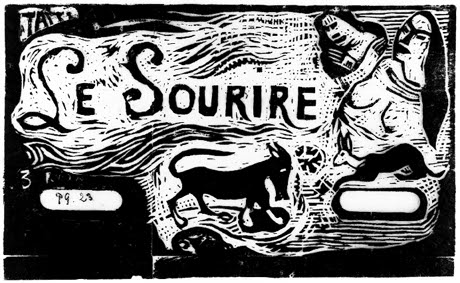 Funds raised by the Friends of the DAC supported the purchase of this Paul Gauguin woodcut, which was on view for the first time since its acquisition.
The prints, drawings, photographs, and other works on view in this exhibition range in date from the 17th century to the end of the 20th century. Works by such artists as Giovanni Battista Tiepolo, William Blake, Paul Gauguin, and Pierre Bonnard were among some of the early highlights. More recent work was well represented by outstanding prints by Adolph Gottlieb, Gerhard Richter, Kiki Smith, Dotty Attie, Kara Walker, and Enrique Chagoya. Other objects on view ranged widely from two American miniatures to a large wall sculpture by Louise Nevelson.
Wednesday 24 January - Friday 9 March 2001