A Passion for Prints
Tuesday March 29, 2005 - Sunday May 22, 2005
Collecting is a refutation of the oft quoted and generally accepted statement that musical comedies and detective stories are the only real relaxation of the "tired business man."
--George W. Davison, 1932
A Passion for Prints celebrated George Willets Davison, the founding benefactor of Wesleyan University's print collection. The exhibition featured some of the most notable prints from the Davison Art Center's acclaimed holdings.
An 1892 graduate of Wesleyan, Davison became a prominent banker in New York. He and his wife, Harriet Baldwin Davison of Middletown, remained committed to Wesleyan throughout their lives. George Davison was a Wesleyan trustee from 1912 to 1953, and he established the Davison Rare Book Room in Wesleyan's Olin Library. Together the Davisons were responsible for the purchase and renovation of the historic Alsop House, which became home to the collection and the Davison Art Center.
Davison began to acquire prints in 1907. He revered such Old Master artists as Albrecht Dürer and Rembrandt van Rijn, and he was fascinated by James A. McNeill Whistler and the etching revival.

Rembrandt van Rijn, The Three Crosses, 1653, drypoint and engraving; gift of George W. Davison, 1952
Many of his acquisitions were informed by prevailing tastes, especially the interest in connoisseurship. Davison believed that a true collection was based not on sheer numbers, but on thoughtful selection of the best works.
| | |
| --- | --- |
| | |
| James Abbott McNeill Whistler, Weary,1863, drypoint; bequest of George W. Davison, 1953 | Francisco de Goya, The Sleep of Reason Produces Monsters, 1796-1797, Los Caprichos no. 43, etching and aquatint; gift of George W. Davison, 1946 |
From 1937 through their final bequest in 1953, the Davisons gave some 6,000 prints to Wesleyan. These gifts form the core of one of the leading print collections at an American university. A Passion for Prints revealed Davison's collecting skill and celebrated high points in the history of printmaking. On view were more than 40 of his prints, dating from roughly 1450 to 1940. Among them were masterpieces, rarities, and the occasional anomaly to shed light on his collecting strategy.
Additional works on view were generous gifts, some in honor of the Davisons, from Wesleyan alumni and other supporters. The exhibition also presented objects acquired since 1953 by the five DAC curators, who have continued to build on the strengths of Davison's collection and to fill in its gaps. Many such purchases were funded by theFriends of the Davison Art Center. A Passion for Prints included, as well, work by such later artists as Willem de Kooning, Jasper Johns, and Jim Dine.
Today the DAC holds more than 20,000 works. These holdings are an accretion of tastes, a unique resource at Wesleyan, and an invaluable teaching tool that will enrich the lives of students for years to come. Such a collection is, as Davison himself once wrote, "a house full of very artistic things very much alive for close examination and study."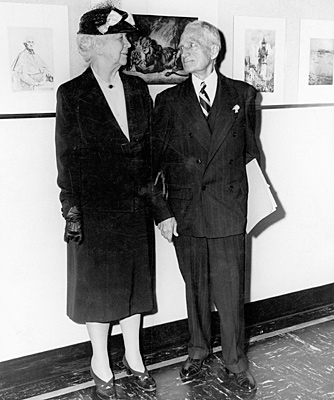 Harriet B. and George W. Davison at the dedication of the Davison Art Center, 7 June 1952
At 5:00 p.m. on Friday 22 April, the exhibition's student curators gave a gallery talk, followed by a reception. This event was open to the public free of charge.
Jesse Feiman '05 and Dan Zolli '07 organized this exhibition under the supervision of Interim Curator Ellen G. D'Oench. DAC Curator Clare Rogan directed the tutorial in which they completed this work.