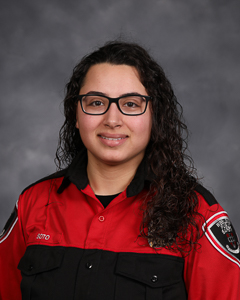 Name: Lily Soto
Rank/Position: Dispatcher
Hometown: Meriden, CT
Experience: Lily graduated from Central Connecticut State University with a BA in Criminology. She worked as a Security Officer for three years while pursuing her Bachelor's degree.
Why Wes?: Lily found the job posting for Wesleyan Public Safety while figuring out her after graduation plan. She knew this would be a great way to continue and grow in the field. 
Best part of the job: Lily enjoys the mystery of everyday. When the phone rings she never knows what to expect and it keeps things interesting. 
Favorite movie: White Chicks and 50 First Dates
Favorite music: Hip-Hop/Rap and Reggaeton
Favorite restaurant: Salsa's 3 Mexican Grill right on Washington St.