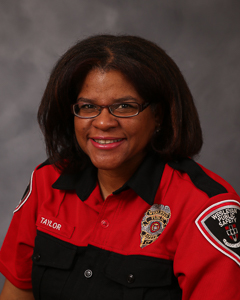 Name: Magdalena (Maggy) Taylor
Rank/Position: Public Safety Officer
Homestate: East Hampton, CT
Experience:  Officer Taylor has been working with Wesleyan for 10 years.  She has had a large variety of experience from her past. Taylor completed her degree in computer science as she worked in the computer store fixing and repairing computers.   She also worked at Millstone Nuclear Power plant as a senior data operator Aetna Insurance company in administration.
Why Wes?: Taylor loved her college experience and enjoyed being in a college atmosphere. She enjoys talking to faculty, staff, and students. She comes from a multicultural and diverse background, which leads to her own interest in cultures and history.
Taylor enjoys organic gardening, naturopathic and homeopathic medicine, crafts (sewing, knitting, crocheting, jewelry making), fashion design, and politics and economics.
Taylor would like to teach students how to knit and crochet winter hats and maybe make jewelry or a flower headband.
Best part of the job: Taylor enjoys talking the international students and learning about their county and enjoys talking about cultures.  Taylor is also born out of this country in Cuba.
Genres:  Favorite Movies Bette Davis- 'Now, Voyager' Joan Crawford 'Mildred Pierce' Dana Andrews, 'Laura' Classical Musical
Alfred Hitchcock Twilight Zone District 9 Favorite Music: Salsa, Opera, Disco, Broadway musicals and Blues
Favorite Restaurant: Any foods