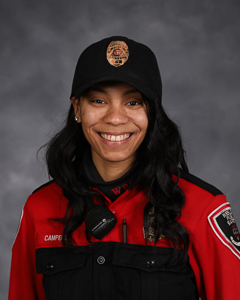 Name: Tenika Campbell
Rank/Position: Patrol Officer
Hometown: Middletown, CT
Experience: Tenika Campbell earned her Bachelor's Degree in Justice and Law Administration with a Concentration of Law Enforcement from Western Connecticut State University. Prior to becoming a Public Safety Officer she I interned with the Danbury Police Department and became a certified 911/Police and Fire dispatcher.
Why Wes?: Tenika Campbell grew up in Middletown her whole life so Wesleyan has always been home to her. 
Best part of the job: Campbell's favorite part of the job is effectively being a part of the student's college experience. Since joining The Public Safety team in 2016 Campbell has enjoyed witnessing students accomplish their goals and aspirations.
Favorite movie: Love and Basketball
Favorite music: Hip Hop and R & B
Favorite restaurant: Texas Roadhouse