WESLEYAN UNIVERSITY OFFICE OF PUBLIC SAFETY
2023/2024 STUDENT MOTOR VEHICLE REGULATIONS (Updated 7/30/2023)
APPLICATIONS WILL BE PROCESSED AFTER AUGUST 1st, 2023
Permits will be available at the package pickup window in Usdan
The following rules and regulations have been adopted to promote the safety and convenience of the entire university and allow for maximum and efficient use of our parking facilities. To serve this purpose they must be, and will be, strictly enforced.
The Office of Public Safety is charged with the responsibility of enforcing the regulations set forth on a 24-HOUR-A-DAY basis. Any questions or concerns regarding parking should be referred to the Office of Public Safety at parking@wesleyan.edu
All parking regulations are in effect and enforced all year, regardless if classes are in session. This includes winter and summer breaks. *It is the responsibility of the driver to know the university parking regulations.*
The Office of Public Safety reserves the right to restrict parking in any campus lot during or after normal business hours for special events or emergencies.
 ***PLEASE NOTE U LOT AT FOUNTAIN/PINE, X LOT AT 55 HIGH STREET AND THE LOT BEHIND 115 HIGH ON HUBER AVE ARE NOT STUDENT PARKING LOTS***
Authorized Student Parking Areas
Student parking lots are at the following locations:
V Lot—Vine Street Lot
K Lot–By 202 & 230 Washington Street
W Lot–Near High Rise/Low Rise
M Lot–Rear 344 Washington Street, rear 356 Washington Street
Between 151 & 157 Church Street
Behind 1 Vine Street
STUDENTS ARE NOT CONSIDERED VISITORS FOR PARKING PURPOSES
Parking/driveways at a wood frame residence is reserved for the residents of that house but is not guaranteed to accommodate all residents of that house and is restricted to paved areas only, not gravel/crushed stone/grass/mud/dirt.
Parking on turf/grass/sidewalks is prohibited.
Driving on grass or through backyards is prohibited.
The area between Bennet and Fauver Senior is off limits to students at all times.  Students should not park or drive in this area.
The area in front of Fauver Senior is a Fire Lane and off limits to parking.
Students are not allowed to drive on the wider walking paths around the campus, such as between Hewitt and Nicholson, into the Butterfield Courtyard and between WestCo and Clark Hall.
***Yellow curbing denotes a no parking/tow zone and red curbing denotes a fire lane/tow zone on the campus as well as on Middletown City Streets.  Parking along unmarked curbing is prohibited unless the pavement is denoted as a parking space with white or yellow lines.  Parking along any curbing on the campus may result in an $80 ticket***
 Parking at any Wesleyan Administrative building without a lot designation is off limits to students at all times. 
First-year students must receive permission from Director Rohde to have their vehicle on campus.  Email srohde@wesleyan.edu for approval.  Director Rohde will need the reason for bringing a car to the campus.  These requests will not be responded to until after August 1st for the upcoming Fall Semester.
Smith Field (LL) may be utilized by any student if other lots are full and during parking bans.
Street parking is available on a limited basis in some areas, but is not a reliable alternative. If a student vehicle is parked on university property at any time, even once, it must be registered with the university.
All faculty/staff lots are closed to students at all times. X Lot (55 High Street), O Lot, Foss Hill Drive, Clark Hall, 115 High St Lot, S Lot and U Lot are also faculty/staff parking areas with no student parking allowed at any time.  Students will be ticketed for parking in faculty/staff lots.  Any parking at any administrative building (ie in a driveway) is closed to all students.
All students must register their vehicle.  The Registration Fee is $125 for the entire Academic Year (Fall, Winter, Spring and Summer Sessions), $75 for the Spring or Fall Semester only and Summer registration is free.  Decals should be affixed on the lower right side of the windshield (passengers side) where it is visible from outside the vehicle.  Decals will be mailed to the students WesBox.  First year students MUST have prior authorization from Director Rohde to bring their vehicle to the campus.
Electric vehicle charging stations are available for anyone to use to charge their vehicle.  Vehicles must be actively charging and/or waiting for charging in the space for no more than 8 hours.  A list of campus charging locations can be found HERE.  Please note that as of 10/25/23, there are fees associated with charging in certain spaces.  Please see the email from Andrew Plotkin.
Student Responsibility
The owner and/or operator of any vehicle parked on Wesleyan University property shall assume the risk of loss or damage to said vehicle and its contents. Wesleyan University assumes no responsibility for the safety, care and, protection of the vehicle and its contents. Thus, we recommend you lock your car.
The person in whose name the parking permit is issued shall be held responsible for any violation involving the vehicle.  These will bill to the student account no earlier than 7 days from the violation date.
If a vehicle becomes disabled, Public Safety must be notified immediately. Failure to do so may result in ticketing, immobilization, or towing at the owner's expense.
A change of registration, transfer, or sale of a motor vehicle registered with Wesleyan must be reported to the Office of Public Safety.
All persons operating motor vehicles on or around campus must drive within the speed limit and in a manner that will ensure the safety of the entire community.
Any vehicle abandoned on university property will be towed at the owner's expense. Should no one claim the vehicle, it will be disposed of by the carrier in the manner dictated by Connecticut statutes.
Transfer of a parking permit or temporary permit to another vehicle, possession of a stolen or altered permit, or the falsification of a registration form is prohibited.
Immobilization Boot
Officers working for the Office of Public Safety are equipped with vehicle immobilization devices known commonly as "boots." These devices may be deployed on any vehicle in violation of university parking regulations at any time.
Vehicles that remain booted for more than 24 hours will be charged additional fines at the rate of $30 per day until the removal of the boot from the vehicle and removal of the vehicle from the area.
The boot will be removed by Public Safety staff only after payment is received. Tampering with the boot will subject the owner/operator to an additional $100 fine and possible revocation of parking privileges.
Guest Parking
All visitors and guests must obtain a temporary parking permit at Public Safe.
Appeals
Any person whose vehicle has been towed, booted or ticketed may appeal via e-mail to the Office of Public Safety within seven days of the incident. The appellant will receive a response to his or her appeal once the appeal is processed. E-mail Parking@wesleyan.edu with the subject line as "Ticket ###### Appeal," with the ticket number filled in. We also need your WesID number, your permit and plate info, as well as the reason for the appeal.  Appeals may also be submitted online via the Portfolio/Portal.
MIDDLETOWN WINTER PARKING BAN 
In the event of a winter parking ban declared by the City of Middletown, Public Safety will notify students via e-mail. All vehicles must be removed from city streets or they will be subject to ticketing and towing by the city at the owner's expense. Student vehicles may be parked legally in any student parking lot. Student vehicles parked in faculty/staff lots may be towed and subject to a $75 parking ticket.  
Fees
All motor vehicle fines and fees will be billed to the student account no sooner than 7 days from the incident if no payment is received.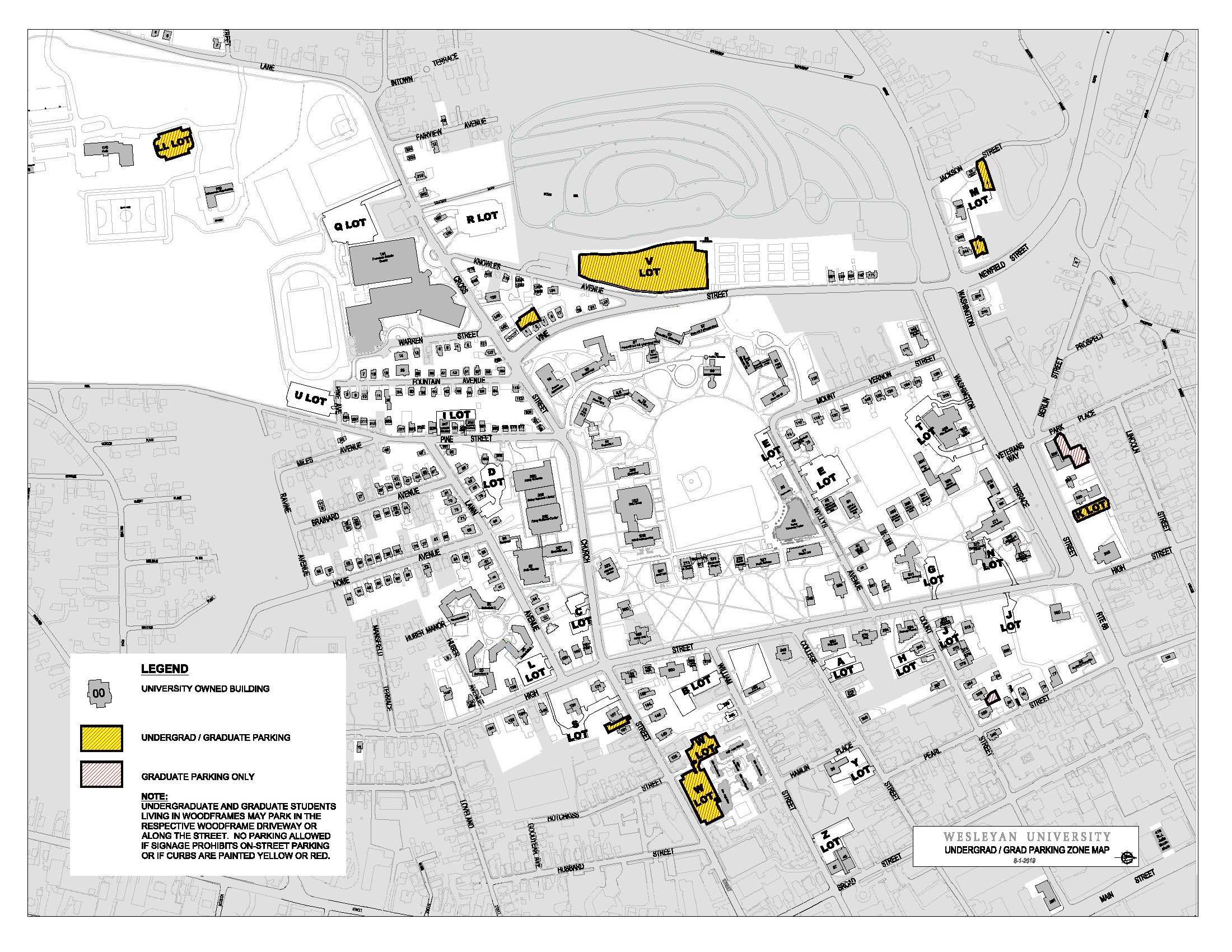 Disclaimer:
By clicking I Agree to register my vehicle with Wesleyan University, I acknowledge that I have read and will follow the applicable Motor Vehicle Regulations.  Failure to follow the regulations may result in ticketing, booting or towing.