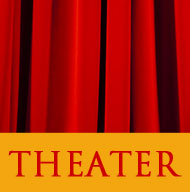 CURRENT SEASON (2014 - 2015)
For information about upcoming events, please visit:
http://www.wesleyan.edu/cfa/events/theaterevents-2014-fall.html
Faculty and Senior Thesis productions
In The Heights
Wednesday, November 12, Thursday, November 13, Friday, November 14, Saturday, November 15, 2014 at 8:00 PM,
Sunday, November 16, 2014 at 2:00 PM & 8:00 PM
CFA Theater
Buy Tickets
$15 general public; $12 senior citizens, Wesleyan faculty/staff/alumni, Middletown residents, $7 students
In the Heights
tells the universal story of a vibrant community in New York's Washington Heights neighborhood – a place where the coffee from the corner bodega is light and sweet, the windows are always open, and the breeze carries the rhythm of three generations of music. It's a community on the brink of change, full of hopes, dreams, and pressures, where the biggest struggles can be deciding which traditions you take with you, and which ones you leave behind.
With book by Wesleyan's Distinguished Shapiro Professor of Writing and Theater Quiara Alegría Hudes, In the Heights is the winner of the 2008 Tony Awards for "Best Musical," "Best Original Score" (Lin-Manuel Miranda, Theater '02), "Best Choreography" and "Best Orchestrations" (Alex Lacamoire and Bill Sherman, Music '02). The Wesleyan production is a collaboration between the Music and Theater Departments.
OUTSIDE THE BOX SERIES 
Groundbreaking theater performances and discussions presented by the Theater Department and the Center for the Arts.
The Builders Association – Sontag: Reborn
Thursday, October 2 and Friday, October 3, 2014 at 8:00 PM
CFA Theater
Buy Tickets
$25 general public; $22 senior citizens, Wesleyan faculty/staff/alumni, non-Wesleyan students; $6 Wesleyan students
 "[A] remarkable performance by [Moe] Angelos, a one-woman force field whose intensity compels our attention as the actress channels Sontag in all her restless, omnivorous, arrogant, spiky individuality."
—The Boston Globe
Based on the books Reborn and As Consciousness is Harnessed to Flesh by Susan Sontag, edited by David Rieff.
Directed by Marianne Weems, Artistic Director, and using The Builders Association's signature synthesis of poetic video and sound, Sontag: Reborn (2013) is a tightly-crafted story of self-discovery and sexual identity that is both exuberant and intimate, exploring the private life, loves, and idiosyncrasies of the iconic intellectual Susan Sontag (1933-2004). The work is adapted by solo performer Moe Angelos based on Ms. Sontag's early journals Reborn (2008) and As Consciousness is Harnessed to Flesh (2012), edited by David Rieff. The piece traces Ms. Sontag's life from the age of fourteen to her emergence as a world-renowned author and activist. The young Ms. Sontag wrestles with her emerging sexuality and precocious intelligence, fraught with doubt and insecurity yet driven by her willfulness, ambition, and voracious curiosity. The refuge of her diary became integral to her development as a writer, Ms. Sontag says herself, "In the journal I do not just express myself more openly than I could in person. I create myself."
Ms. Sontag would re-read her early journals, often annotating passages and leaving margin notes. This act of revisiting her former self served as a springboard for Sontag: Reborn in which older and younger versions of Ms. Sontag intermingle—both played by Ms. Angelos, the former in projected video and the latter on stage—creating a portrait of this prismatic and elegant mind. 
Founded in 1994 and based in New York, The Builders Association is one of this country's most active international touring experimental theater companies, using the richness of new and old tools to extend the boundaries of performance. Based on innovative collaborations, their productions blend stage performance, text, video, sound, and architecture to tell stories drawn from contemporary life.
Marianne Weems has also worked with The Wooster Group and Susan Sontag, among many others.
Actor Moe Angelos and video designer Austin Switser presented the talk "Inside The Builders Association: Integrating Media and Performance" in February 2011 in CFA Hall.

An Outside the Box Theater Series event presented by the Theater Department and the Center for the Arts. Co-sponsored by Wesleyan's English Department and Writing Programs.