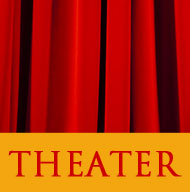 CURRENT SEASON (2013 - 2014)
For information about upcoming events, please visit:
http://www.wesleyan.edu/cfa/events.html#theater
Faculty and Senior Thesis productions
The Seagull
by Anton Chekhov
Translated by Laurence Senelick
Directed by Yuri Kordonsky
Scenic Design by Emmie Finckel '14
Costume Design by Leslie Weinberg


Wednesday, November 13 through Saturday, November 16, 2013 at 8pm
CFA Theater
Associate Professor of Theater Yuri Kordonsky directs Anton Chekhov's once revolutionary and now classic masterpiece, "The Seagull" (1896). The plot of Chekhov's famous play is seemingly simple: a group of friends gathers at a country estate to see an experimental play written and staged by Konstantin, an aspiring writer who dreams of bringing new forms to the theater. The play is performed by Konstantin's lover Nina; among the audience are his mother Arkadina, an aging actress, and her lover, famous writer Trigorin. What starts as a casual love affair soon turns into a whirlwind of fatal events, torments of unrequited love, clashes of opposing views on art, betrayals, shattered dreams, denied hopes, and ruined lives. Love and art are the two main themes of this comedy, as Chekhov called it, a tragic comedy of human existence. They intertwine to create a mesmerizing polyphony, a profound and compassionate portrait of fragile human nature. 
 "A subject for a short story: a young girl, just like you, has lived all her life by the lake; she loves the lake like a seagull, and is as happy and free as a seagull. But a man happens to come along, sees her, and having nothing better to do, destroys her, just like this seagull here." --Anton Chekhov, "The Seagull"
A La Ronda
A Senior Thesis Production
Adapted and directed by Claire Whitehouse '14
Translated by Matthew and Maria Posner
Thursday, February 27 through Saturday March 1, 2014 at 8pm
Patricelli '92 Theater
The Madres de Plaza de Mayo is a human rights organization formed by the mothers of those who were disappeared during the last Argentine dictatorship, which held power from 1976 to 1983. In partial fulfillment of her Honors Thesis in Theater, Claire Whitehouse '14 directs five women in an English-language adaptation of their testimonies, which asks the questions: Where is there a place to mourn in a society that refuses to acknowledge that the dead ever existed? And what is our role as foreigners in watching these women in their 35-year march?
Vatzlav
by Slawomir Mrozek
Directed by Lily Whitsitt '06
Scenic Design by Marcela Oteiza
Costume Design by Leslie Weinberg
Thursday, April 10 through Saturday, April 12, 2014 at 8pm
Saturday April 12 @ 2pm
CFA Theater
"Vatzlav is a three-ring circus of a comedy, cataloguing the injustices--and the sheer craziness--of civilization." --The New York Times
Vatzlav is a castaway slave in search of a new life and identity. After a tempest leaves him shipwrecked, he washes up on a remote island where he encounters a zany cast of characters including a blind Oedipus, a wealthy bloodsucking couple, and their son who pretends to be a bear while instigating a revolution. This panoramic political farce is a mash-up of 18th-century French philosophical tales like Voltaire's Candide and the Marquis de Sade's Justine. In 77 brisk episodic scenes, a bizarre and biting tale unfolds about the absurd mechanisms of power. Wesleyan alumna Lily Whitsitt '06 directs. Dissident Polish playwright Slawomir Mrozek wrote Vatzlav shortly after he sought political asylum in France in 1968, but due to censorship because of his defection, it did not appear in Poland until almost ten years later. Mr. Mrozek died in 2013 at the age of 83. 
Until We Get it Right
A Senior Thesis Staged Reading
Written and directed by Natalie Sacks '14
Friday, April 25 & Saturday April 26, 2014 at 8pm
Theater Studio
Until We Get It Right is a deconstructed portrait of major depression across the past 150 years.  Using snapshot scenes and actors playing multiple characters, the play tells the stories of three troubled individuals and their struggles to relate to their loved ones. Written and presented in partial fulfillment of her Honors Thesis in Theater, Natalie Sacks '14 wrote this play to consider how the extremely personal, internal experience of depression can be shared with an audience.
OUTSIDE THE BOX SERIES 
Groundbreaking theater performances and discussions presented by the Theater Department and the Center for the Arts.

Who's Hungry

Connecticut Premiere
Friday, September 27 & Saturday, September 28, 2013 at 8:00 pm
CFA Theater
"Not only are the stories being told compelling; they are presented in a provoking and imaginative fashion." --Culver City Crossroads (California)
The performances of Who's Hungry (2012) at Wesleyan are the Connecticut premiere of a stunning experimental puppet theater work that weaves together oral histories of five very different homeless and/or hungry residents of Santa Monica, California. A 24-foot-long dinner table transforms into a runway-style puppet stage for four puppeteers using a variety of styles including figures inspired by Japanese Bunrake, two-dimensional rod puppets, and shadow puppetry. Written and produced by Los Angeles performance artist Dan Froot, designed and directed by New York puppet artist Dan Hurlin, and featuring music by Seattle composer Amy Denio, Who's Hungry brings communities together, inspires theatergoers to engage with the issues, and supports the efforts of food policy activists. The stories told in Who's Hungry are those of a former interior designer, an addiction-recovery caseworker and recovering heroin addict, a subsidized housing resident evicted while undergoing a dire health crisis, a Brooklyn native who headed to New York City when the World Trade Center towers collapsed, and an original member of the influential mid-1970s surfing/skateboarding team known as "The Z-Boys" (featured in the 2005 film "Lords of Dogtown").

Following the performances, there will be Skype discussions with the people whose stories are featured in the work. Made possible by a grant from the Expeditions program of the New England Foundation for the Arts. Presented in partnership with Amazing Grace Food Pantry.
The Assembly: HOME/SICK

New England Premiere
Thursday, January 30 & Friday, January 31, 2014 at 8:00 pm
CFA Theater
"[HOME/SICK] invites us to take a close-up look at the fiery rhetoric of another era's radical fringe and to measure the distance from our own aspirations. An absorbing, critical-minded narrative." --The Village Voice
The Assembly is a Brooklyn-based ensemble theater project of multi-disciplinary performance artists, many of whom are Wesleyan alumni, including Co-Artistic Directors Stephen Aubrey '06 (dramaturg), Nick Benacerraf '08 (scenic designer), and Edward Bauer '08 (actor). Devised and written collectively by the company, the New England premiere of HOME/SICK (2011), directed by Co-Artistic Director Jess Chayes '07 and produced by Ariela Rotenberg '10, explores the political history of how a handful of student activist leaders, disgusted by the Vietnam War and the U.S. government's repression of those seeking equality domestically, seized control of the Students for a Democratic Society movement in 1969. Believing violence to be the means to a true and lasting peace, these passionate idealists reshaped the group, in the name of overthrowing the government, into the Weather Underground. Fights choreographed by Sean Chin '09.

Mark Rudd was a student activist and organizer in the Students for a Democratic Society at Columbia University, and helped found the Weather Underground. He was a federal fugitive from 1970 to 1977. Upon his return to the U.S., Mr. Rudd has worked as an organizer and community college instructor in Albuquerque, New Mexico.


A Talk by Paula Vogel
Monday, April 14, 2014 at 8pm
Memorial Chapel
Reception and book signing to follow.
FREE!
Paula Vogel is the Eugene O'Neill Adjunct Professor of Playwriting at Yale School of Drama and Playwright in Residence at the Yale Repertory Theatre. Her play How I Learned to Drive received the 1998 Pulitzer Prize for Drama. Her other award winning plays include The Baltimore Waltz and The Long Christmas Ride Home. Her play A Civil War Christmas was produced at Long Wharf Theatre in November 2008.