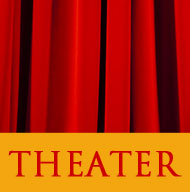 CURRENT SEASON (2015 - 2016)
For information about upcoming events, please visit:
http://www.wesleyan.edu/cfa/events/theaterevents-2015-2016.html
Faculty and Senior Thesis productions
Marisol
Thursday, November 19, Friday, November 20, Saturday, November 21, 2015 at 8:00 PM
CFA Theater
Buy Tickets
$8 general public; $5 senior citizens, Wesleyan faculty/staff/alumni, Middletown residents, $4 students
Directed by Visiting Assistant Professor of Theater Edward Torres, Marisol by José Rivera takes place in a post-apocalyptic world filled with intrigue and dark humor as Marisol winds her way through the darkened and abandon streets of New York. She is caught in the middle of a conflict between God and his angels as they battle over the fate of the world and humanity.
OUTSIDE THE BOX SERIES 
Groundbreaking theater performances and discussions presented by the Theater Department and the Center for the Arts.
Theater After Wesleyan
Thursday, September 24, 2015 at 5:30pm
CFA Hall
FREE!
Five Wesleyan Theater Department alumni talk about their work and careers in theater after Wesleyan:
| | |
| --- | --- |
| | Roberta Pereira '03 is the Producing Director of The Playwrights Realm, an off-Broadway theater company that develops and produces new plays by early-career playwrights. Before joining The Realm, she worked with Bisno Productions on shows such as A Red Orchid Theater's off-Broadway premiere of The Opponent; the Tony Award-nominated play Mothers and Sons by Terrence McNally, starring Tyne Daly; the revival of the beloved musical Annie; the Olivier Award-winning revival of Stephen Sondheim's Merrily We Roll Along in the West End; the Broadway premiere of Grace, starring Paul Rudd, Michael Shannon, and Ed Asner; and the Tony Award-winning smash hit War Horse (Broadway, Toronto, and U.S. tour). Previously, Ms. Pereira was an Associate Producer at Anne Bogart's SITI Company, Executive Producer of Yale Summer Cabaret in New Haven, and she produced all the auxiliary events for the 2006 Dublin International Theatre Festival. In 2011, Ms. Pereira co-founded Dress Circle Publishing, a boutique publisher specializing in books about Broadway and by Broadway authors. Bestselling titles include Ruby Preston's Broadway Trilogy, Jennifer Ashley Tepper's The Untold Stories of Broadway, and Seth Rudetsky's Broadway Diaries. A graduate of the Yale School of Drama's Theater Management program, Ms. Pereira is originally from Brazil, and currently lives in New York City. |
| | Michael Rau '05, Artistic Director and Co-Founder of Wolf 359, is a director specializing in new plays, re-imagined classics, and operas. He has been working internationally in Germany, the United Kingdom, Ireland, Canada, and Greece; and has created work in New York City at Performance Space S122, The Culture Project, HERE Arts Center, Ars Nova, The Bushwick Starr, and Dixon Place. |
| | MJ Kaufman '08 is a playwright whose work has been developed and produced by Bay Area Playwrights Festival, Huntington Theatre, New York Theater Workshop, Clubbed Thumb, New Georges, New Harmony Project, Aurora Theater, Crowded Fire, Fresh Ink Theatre, and the Yale School of Drama; and performed in Russian in Moscow. |
| | Rachel Silverman '09 (Theater and Sociology) is the Artistic Producing Associate at New York Theatre Workshop, where she has worked in many capacities since the fall of 2009. Ms. Silverman coordinates all workshop programming and artist development activities, including a weekly "Monday @ 3" reading series, summer residencies at Adelphi University and Dartmouth College, and the 2050 Fellowship for emerging playwrights and directors. In addition to her work with New York Theatre Workshop, Ms. Silverman served as festival producer for PRELUDENYC in 2012 and 2013, and has directed and curated for TinyRhino. Other producing credits include UglyRhino's site specific What it Means to Disappear Here, and 13P's OBIE Award-winning A Map of Virtue. Ms. Silverman served as the Associate Producer of 13P for its final years until implosion, and is a proud UglyRhino Associate Artist. |
| | Emmie Finckel '14, a New York-based scenic and properties designer, is currently the Communications Associate at David Korins Design, and has collaborated with Woodshed Collective, The Assembly, and Trusty Sidekick theater companies. |
The panel will be moderated by Associate Professor of Theater Cláudia Tatinge Nascimento.
An Outside the Box Theater Series event presented by the Theater Department and the Center for the Arts.
Poetry Slam
Thursday, October 8, 2015 at 8:30pm
CFA Hall
FREE!
Join award-winning actor and writer Daniel Beaty for a spoken word/poetry slam. Mr. Beaty and Wesleyan students will slam about identity, community, and topics of the day.
Co-sponsored by the Center for the Arts, the Theater Department, the Center for African American Studies, the Office of Equity and Inclusion, and Feminist, Gender, and Sexuality Studies.
Daniel Beaty performing Mr. Joy
Friday, October 9, 2015 at 8:00pm
CFA Theater
Buy Tickets
$19 general public; $17 senior citizens, Wesleyan faculty/staff/alumni, non-Wesleyan students; $6 Wesleyan students
"Showcasing Beaty's signature blend of comedy, poetry, music and multi-character transformation, Mr. Joy is a hilarious and heart-warming exploration." --BroadwayWorld.com
What happened to Mr. Joy? In this tour-de-force solo show by award-winning actor, singer, writer, and composer Daniel Beaty, a Harlem community is disrupted when the Chinese immigrant's shoe repair shop, a neighborhood pillar for decades, does not open its doors. Nine customers, ranging from eleven-year-old Clarissa, a budding shoe designer, to Bessie, a "gangsta granny," reflect on the shop owner's impact in this moving exploration of one community's efforts to heal in order to dream again.
Daniel Beaty is an award-winning actor, singer, writer, and composer. His critically acclaimed plays Emergency, Through the Night, Breath & Imagination, and The Tallest Tree in the Forest have been performed at venues ranging from leading theaters and concert halls to maximum security prisons and the White House. The extended off-Broadway run of his acclaimed solo play Through The Night was produced by Daryl Roth. For that production, Mr. Beaty received 2011 Lucille Lortel, Drama Desk, Drama League, and Outer Critics Circle nominations. He also received the 2010 Audelco Award for "Outstanding Solo Performance," and the 2010 Ovation Award for "Best Male Lead Actor." His critically acclaimed solo play Emergence-See! ran off-Broadway to a sold-out, extended run at The Public Theater in the fall of 2006. For that production, he received the 2007 Obie Award for "Excellence in Off-Broadway Theater for Writing & Performing," and the 2007 Audelco Award for "Solo Performance." He is the recipient of the 2007 Scotsman Fringe First Award for the "Best New Writer" at the Edinburgh Festival, and was presented with a Lamplighter Award from the Black Leadership Forum in Washington, D.C. In the spring of 2008, Emergence-See!, now re-titled Emergency, had a sold-out seven-week engagement at the Geffen Playhouse in Los Angeles, and was awarded two 2009 N.A.A.C.P. Theater Awards, including "Best Actor." Mr. Beaty has worked throughout the U.S., Europe, and Africa performing on programs with artists such as Ruby Dee, Ossie Davis, Jill Scott, Sonia Sanchez, M.C. Lyte, Mos Def, Tracy Chapman, Deepak Chopra, and Phylicia Rashad. He holds a B.A. with Honors in English & Music from Yale University, and an M.F.A. in Acting from the American Conservatory Theater. His ensemble play Resurrection received its world premiere production at Arena Stage in Washington, D.C. in 2008 (where he was awarded the 2008 Edgerton Foundation's New American Play Award); followed by engagements at Hartford Stage, the Philadelphia Theatre Company, and ETA Theater in Chicago. His ensemble musical Breath & Imagination – The Story of Roland Hayes premiered as a co-production with Hartford Stage and Pittsburgh City Theater in 2013.  He also has a solo play on the life of Paul Robeson, The Tallest Tree in the Forest, directed by Moises Kaufman that premiered the same year. He is a proud member of New Dramatists and an Adjunct Professor at Columbia University. Both Emergency and Through the Night have been published by Samuel French and are available online. His first children's book, based on his poem Knock Knock, was released by Little Brown Books in 2013. Mr. Beaty has also written a spoken word ballet Far But Close that premiered in 2012 by Dance Theater of Harlem.
 
An Outside the Box Theater Series event presented by the Theater Department and the Center for the Arts. Co-sponsored by the Center for African American Studies, the Office of Equity and Inclusion, and Feminist, Gender and Sexuality Studies.