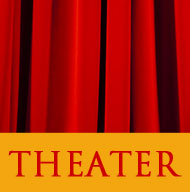 Fall 2016 Faculty Production
Summertime, by Charles L. Mee
Directed by Visiting Associate Professor of Theater Kim Weild 
CFA Theater
November 2016
Thursday 17th - Saturday 19th at 8pm; Saturday 19th and Sunday 20th at 2pm
"…life has no plot, you only think it does."
Charles Mee's pulsating romantic comedy Summertime (2000) weaves together elements of William Shakespeare, Molière, René Magritte, and more to tell a story of love about man, a woman, her mother, her boyfriend, her husband, his lover, their friends, and a pizza boy. Using heightened lyric language, music, and big dances, he creates a complex emotional landscape as he asks: In the end is how we treat one another, all that really matters?
Fall 2016 Acting Capstone
THE SELF
An Acting Capstone created by, Jess Wolinsky '17
Directed by Emma Pasarow '18
'92 Patricelli Theater
December 2016
Thursday 8th at 7pm and 10pm; Friday 9th at 7pm and 10pm
"In a time like this, the simple act of being ourselves - loudly, in public - is radical."

THE SELF is an exploration of why we are who we are, and who we are, together. It is an explosion of color, song, and laughter. It is political, yet personal. It is a follow-up question to the question of how to be yourself, unabashedly. Inherently, it is a celebration of performing yourself in everyday life, yet it is also an homage to the awkwardness in making a character of yourself for the stage.
Come see us.
Spring 2017 Design Thesis
Resistentialism
A Design Thesis Installation by Anthony Dean '17
Russell House
February 2017
Friday 3rd from 7:00-10pm; Saturday 4th from 12:00-6:00pm; Sunday 5th from 12:00-6:00pm
Working with the writings of Allan Kaprow and disparate musical and sonic sources, the audio installation Resistentialism plays with enjoyment, individuality, and perception, and is focused on the common occurrence of music that intersects art and everyday life—looking at how music can slip into our lives, how it accrues disdain, and why we love to hate.
Spring 2017 Directing Thesis
Mnemonic by Complicité
A Directing Thesis by Ali Jamali '17
'92 Patricelli Theater 
March 2017
Tuesday 7th at 8pm; Wednesday 8th at 8pm; Thursday 9th at 8pm
Virgil is desperately longing for Alice, who abruptly disappeared in search of his thought-to-be-dead father. A mummified corpse, dating back to more than 5000 years ago, is discovered in the mountains. As each character remembers the events of the past, connections appear between the two narratives. Mnemonic (1999), by the British theater company Complicite, incorporates its two parallel stories to explore the act of remembering and the fragmented nature of memory. This thesis production is directed by Ali Jamali '17, in partial fulfillment for Honors in Theater.
Spring 2017 Acting/Design Capstone
up your aesthetic.
An Acting/Design Capstone by Jess Cummings '17, Connie Des Marais '17, Cheyanne Williams '17, and Nola Werlinich '17
Theater Studio
April 2017
Friday 7th, times TBA; Saturday 8th, times TBA
"Women are defective by nature." --Aristotle
A disruptive, devised, women-only performance piece juxtaposing the rage and grief felt by modern women with the Ancient Greek myths of the Amazons.
Spring 2017 Directing Thesis
Through Everchanging Tracks of Neverchanging Space
A Directing Thesis by May Treuhaft-Ali '17
Olin Library
April 2017
Thursday 13th at 8pm; Friday 14th at 8pm; Saturday 15th at 8pm  
Ulysses (1922) is a love story. It is a story about the love between a husband and wife, and the love between a parent and child. It is a story about three individuals searching for a sense of belonging in a community that marginalizes them. It is a story about flowers, hot chocolate, farts, flirtations, shooting stars, and the myriad moments that can transform an ordinary day into an epic journey. Because Ulysses is the epic of everyday life, this piece will be site-specific and take place in locations throughout the Wesleyan campus, as a theatrical intervention in the public sphere.  
Spring 2017 Faculty Production
Islands
Directed by Professor of Theater Ronald Jenkins
CFA Theater 
April 2017
Friday 21st at 8pm; Saturday 22nd at 2pm and 8pm
Islands is a play celebrating the arts as a means of resistance to colonialism, slavery, and injustice. The story begins with two seventeenth century European superpowers trading Manhattan for an East Indies spice island, without the consent of their inhabitants, and moves through the history of other islands of oppression, from Malcolm X in solitary confinement, to Nelson Mandela's Robben Island, to Aung San Suu Kyi in Myanmar, to contemporary Puerto Rico, to African immigrants in refugee camps on Lampedusa.
Tickets avaliable online or in person at the box office.