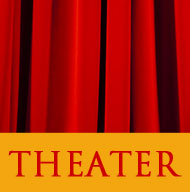 Fall 2016 Faculty Production
Summertime, by Charles L. Mee
Directed by Visiting Associate Professor of Theater Kim Weild 
CFA Theater
November 2016
Thursday 17th - Saturday 19th at 8pm; Saturday 19th and Sunday 20th at 2pm
"…life has no plot, you only think it does."
Charles Mee's pulsating romantic comedy Summertime (2000) weaves together elements of William Shakespeare, Molière, René Magritte, and more to tell a story of love about man, a woman, her mother, her boyfriend, her husband, his lover, their friends, and a pizza boy. Using heightened lyric language, music, and big dances, he creates a complex emotional landscape as he asks: In the end is how we treat one another, all that really matters?
Tickets avaliable online or in person at the box office.
Fall 2016 Acting Capstone
THE SELF
An Acting Capstone created by, Jess Wolinsky '17
Directed by Emma Pasarow '18
'92 Patricelli Theater
December 2016
Thursday 8th at 7pm and 10pm; Friday 9th at 7pm and 10pm
"In a time like this, the simple act of being ourselves - loudly, in public - is radical."

THE SELF is an exploration of why we are who we are, and who we are, together. It is an explosion of color, song, and laughter. It is political, yet personal. It is a follow-up question to the question of how to be yourself, unabashedly. Inherently, it is a celebration of performing yourself in everyday life, yet it is also an homage to the awkwardness in making a character of yourself for the stage.
Come see us.
Information about the Spring 2017 Faculty Production coming soon.