Here is a table of available workshops. 

Summer 2022
Workshop & Minicourse Schedule

Date 

Topic

Presenter(s)

Additional Description

June 1
1:00- 3:00pm

Lab Safety

Bill Nelligan

Required for all students.

Woodhead                                         

June 1
3:30- 4:30pm 

Animal Training

Pete Shatos

Required for any students working with animals.

Woodhead

June 2

12:00- 1:00pm

Laser Safety Trainng

Meng-ju Renee Sher

Required for all students using the laser.

Woodhead

June 2 

1:30- 2:30pm

Lab Equipment

 

Required for all students in Biology, Chemistry, and MB&B labs.

Hall-Atwater 283

June 6

10:30am- 12:00pm

UNIX I: Intro to the HPC Cluster

Kelly Thayer

QAC 204  

June 7

11:00am- 12:00pm 

or

1:00- 2:00pm

Finding and Reading Scientific Papers
Clara del Junco

Wesleyan Library provides you with access to millions of scientific articles in tens of thousands of journals, and books too. In this workshop, you'll learn how to find the ones that matter for your research, and how to get the information you need from them.

Please bring your laptop with you.

Exley 113

June 7 

10:30am- 12:00pm

UNIX II: Text Editors

Kelly Thayer

New Room: Exley 103

June 8

10:30am- 12:00pm 

UNIX III: Essential Shell Scripting

Kelly Thayer 

New Room: Exley 103

June 10

10:00am- 11:00am

or

11:30am- 12:30pm

Science Writing and Reporting Your Research 1

Beth Hepford

Writing for STEM disciplines differs from the writing you will encounter in other courses.  STEM writing is structured and intentional.  These workshops are designed to introduce you to common structural patterns in STEM writing and help you present your work in the most effective way possible.

Required for all university-paid fellows.

Shanklin 201

 

June 13

1:00- 4:00pm 

 

 

Digital Fabrication Basics Session 1: Engraving Objects

Shawn Lopez

This workshop is full.

Bring your own objects to engrave. We will be using Adobe Illustrator to create a design of your choice which will then be engraved on your object using one of the lab lasers. Flat or cylindrical items only. Painted, powder-coated or anodized surface treatments on steel or aluminum work best. Wood, cardboard and chipboard are also possible. No plastic. Suggested items include water bottles, laptops, and notebooks. Largest size is 18x24. Materials not provided. Capacity 12.

June 13

3:30- 5:00pm

Python

Pavel Oleinikov

QAC 204

June 14

10:30am-12:00pm

Molecular Visualization with PyMol and VMD

 Kelly Thayer

 Exley 103 (ST Lab)

June 14

11:00am- 12:00pm

or

1:00- 2:00pm

What I Wish I Knew When I Started Research: Organizing your data & work for smooth(er), low(er)-stress research

Clara del Junco

You're finishing up your first paper (congratulations!)... but you just can't remember where you saved that REALLY IMPORTANT reference for your introduction. Six months later, you need to redo an analysis with different parameters... but you can't find the raw data. I learned the hard way to avoid these common pitfalls so you don't have to. In this workshop, you'll learn the basics of good research data management and other strategies to help you own your research instead of the other way around.

Exley 113

Please bring your laptop with you.

June 14

3:30- 5:00pm

Python

Pavel Oleinikov

QAC 204

June 15

3:30- 5:00pm

Python

Pavel Oleinikov

QAC 204

June 16

3:30- 5:00pm

Web Scraping

Pavel Oleinikov

QAC 204

June 17

3:30- 5:00pm 

Web Scraping 

Pavel Oleinikov 

QAC 204

June 20

1:00- 4:00pm 



Digital Fabrication Basics Session 2: Garden Stakes

Shawn Lopez

This workshop is full.

Can't tell your tomatoes from your pumpkins? Navigate your garden with the help of some custom stakes. We will be using Adobe Illustrator to design a series of labels that we will then cut and engrave from Birch Plywood using the lab lasers. Finish with some paint and a layer of clear coat and you'll never be lost in your garden again. Materials provided. Capacity 12.

IDEAS Makerspace, Exley 40

June 20 

3:30- 5:00pm

 An Introduction to Text Mining

 Pavel Oleinikov

THIS WORKSHOP IS CANCELLED.

June 21

10:30am- 12:00pm

Data Analysis with MATLAB

 Kelly Thayer

Exley 103 (ST Lab)

June 21

2:00- 3:00pm

Science Artist Books

 Suzy Taraba

This workshop is full.

Olin Library, Special Collections & Archives, 1st floor.

 Capacity 15.

June 21

3:30- 5:00pm

An Introduction to Text Mining

 Pavel Oleinikov

 QAC 204

 June 22

3:30- 5:00pm

An Introduction to Text Mining

Pavel Oleinikov 

 QAC 204

June 22

9:30pm- 11:30pm

Nighttime Observation

Seth Redfield, Meredith Hughes, Roy Kilgard

THIS WORKSHOP IS POSTPONED TO JUNE 28.

June 23

2:00- 3:00pm

Science at Wesleyan from the University Archives

Amanda Nelson

This workshop is full.

Ever wondered what science looked like at Wesleyan 50 years ago? 100 years? Almost 200 years ago? Was the observatory always on Foss Hill? Where did the natural history collections come from? Come discover original documents and photographs from the archives to find out what research was done here at Wesleyan and how it might relate to what you're working on now!

Olin Library, Special Collections & Archives, 1st floor.

Capacity 15. 

June 23

3:30- 5:00pm 

An Introduction to Text Mining

Pavel Oleinikov 

 QAC 204

June 24

3:30- 5:00pm

An Introduction to Text Mining

 

Pavel Oleinikov

 QAC 204

June 27

1:00- 4:00pm

Digital Fabrication Basics Session 3: Vessels

Shawn Lopez

This workshop is full.

Make your own vessel from MDF or Birch Plywood using Adobe Illustrator and the lab lasers. This could be a pencil cup for your desk, a pot for a small plant,  a lidded keepsake box or a simple display stand for your phone. The goal is to create 3D objects from flat stock through the use of tabs, slots and even some kerf-bending if we're feeling adventurous. Materials provided. Capacity 12.

IDEAS Makerspace, Exley 40

June 27

3:30- 5:00pm

Introduction to SQL

Pavel Oleinikov

 QAC 204

June 28

3:30- 5:00pm

Introduction to SQL 

Pavel Oleinikov

 QAC 204

June 28

10:30am- 12:00pm

Machine Learning I: Overview 

Kelly Thayer 

 

Shanklin 201 - Please bring your laptop

June 28

9:30pm- 11:30pm

Nighttime Observation 

Seth Redfield, Meredith Hughes, Roy Kilgard 

 Van Vleck Observatory

June 29 

12:00- 1:00pm

Financial Education Lasts a Lifetime

 McNair Program

Hall-Atwater 84

June 29

3:30- 5:00pm

 

Introduction to SQL

Pavel Oleinikov

 QAC 204

June 30

3:30- 5:00pm

Introduction to SQL 

Pavel Oleinikov

 QAC 204

July 1

10:00am- 11:00am

11:30am- 12:30pm

Science Writing and Reporting your Research 2

Beth Hepford

Writing for STEM disciplines differs from the writing you will encounter in other courses.  STEM writing is structured and intentional.  These workshops are designed to introduce you to common structural patterns in STEM writing and help you present your work in the most effective way possible.

Required for all university-paid fellows.

Shanklin 201

July 5

10:30am-12:00pm

Machine Learning II: Regressors

Kelly Thayer 

Shanklin 201 - Please bring your laptop

July 6

12:00pm- 1:00pm

Publish or Perish

Michelle Personick, Seth Redfield, and Erika Taylor

Join Wesleyan faculty to discuss scientific publishing and preparing your work for publication and grant proposals.

Lunch provided.

Van Vleck Observatory 110

July 12

10:30am- 12:00pm

 

Machine Learning III: Deep Neural Nets

 Kelly Thayer

Shanklin 201 - Please bring your laptop

July 13

12:00pm- 1:00pm

Crafting a Resume and Cover Letter

 James Kubat

 This workshop is cancelled - please see below for how to schedule an individual appointment. 

July 21

2:00-3:00pm

Poster Preparation and Presentation

Jeffrey Goetz

Learn about the considerations that go into making a standout conference poster in this session with Jeffrey Goetz, Associate Director of Wesleyan's Center for Pedagogical Innovation and head of the Wesleyan Presentation Studio. How do you design a poster that conveys all the information you want while also being engaging enough to draw people in? What do you need to think about with respect to colors, sizes, imagery, and – of course – content? Once you have the ideas, what considerations go into an effective digital presentation that are unique to the medium, and how will you create a short video to connect with more people? We'll help you conceive and create the perfect poster for your research and answer your questions about the process.

Shanklin 201

 

July 28

Poster Session

Presentation of research posters by all student fellows. 

Exley Science Center Lobby and Science Library
Other Opportunities
Crafting a Resume and Cover Letter

James Kublat (Gordon Career Center) is providing individual one-on-one appointments to discuss and assist with crafting your resume and cover letter. 



Please schedule a STEM appointment through Handshake.   If you have any questions or issues with making an appointment, email: jkubat@wesleyan.edu.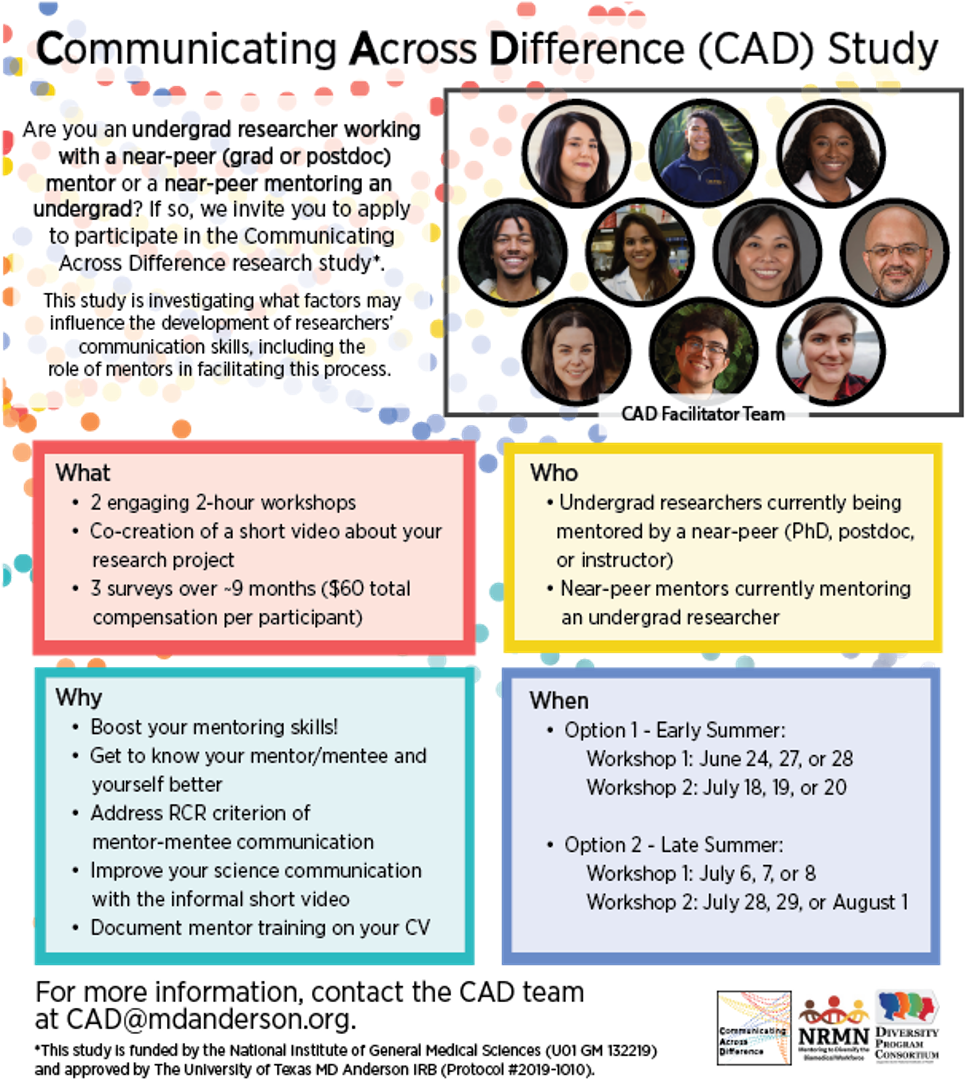 REGISTER HERE BY JUNE 17 (EARLY) OR JUNE 29 (LATE): https://redcap.link/7k15d0c7
When you register, you will nominate your near-peer mentor or mentee to participate with you.