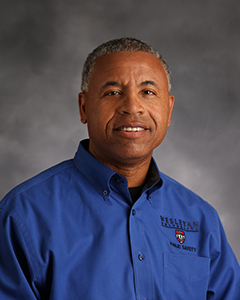 Rank/Position: Associate Director
Hometown: Middletown, CT
Experience: Tony Bostick has spent 32 years of his life working with college students. While 26 years have been spent with Wesleyan University, he also was the Assistant Director at Trinity College and an Officer with the Vanderbilt University Police Department. During his career, he picked up numerous certifications, and also holds a degree in Education. Bostick has always been people-oriented, having worked with group homes and minors, and taking time as a coach.
Why Wes?:Bostick is a long time Middletown resident. To him, the idea of working with students in a campus environment while interacting with a variety of people is a joy. He prefers not to just sit behind a desk, but to reach out to the community and deal with the people of Wesleyan and Middletown, emotions and all. He hopes to build community involvement and enhance awareness on what Public Safety is and what it can provide. Bostick sees himself as a resource: someone who people can go to for security, information, or even assistance from not only Wesleyan, but Middletown itself.
Genres: Favorite movie: Star Wars. Favorite music: Gospel.
Favorite Restaurant: The Chowder Pot; Lenny and Joe's Fish Tale