College of Integrative Sciences
Tomorrow's scientists will face challenging problems in such diverse areas as energy, public health, and the environment, among others. Meeting these challenges requires a broad knowledge base together with creative problem-solving approaches. The College of Integrative Sciences (CIS) is dedicated to equipping Wesleyan students with the creative, quantitative and integrative skills to meet these challenges. At the CIS, students develop expertise in multiple disciplines combined with research methods to become creators of knowledge at the forefront of our changing world.
Wesleyan enjoys a distinguished history in scientific research dating back to the 1860s. The CIS is an integral part of Wesleyan's continued commitment to interdisciplinary research training and the advancement of scientific knowledge.
Of Note
"The Problem with Diversity and Inclusion"
Chanda Prescod-Weinstein presents a Science & Society talk.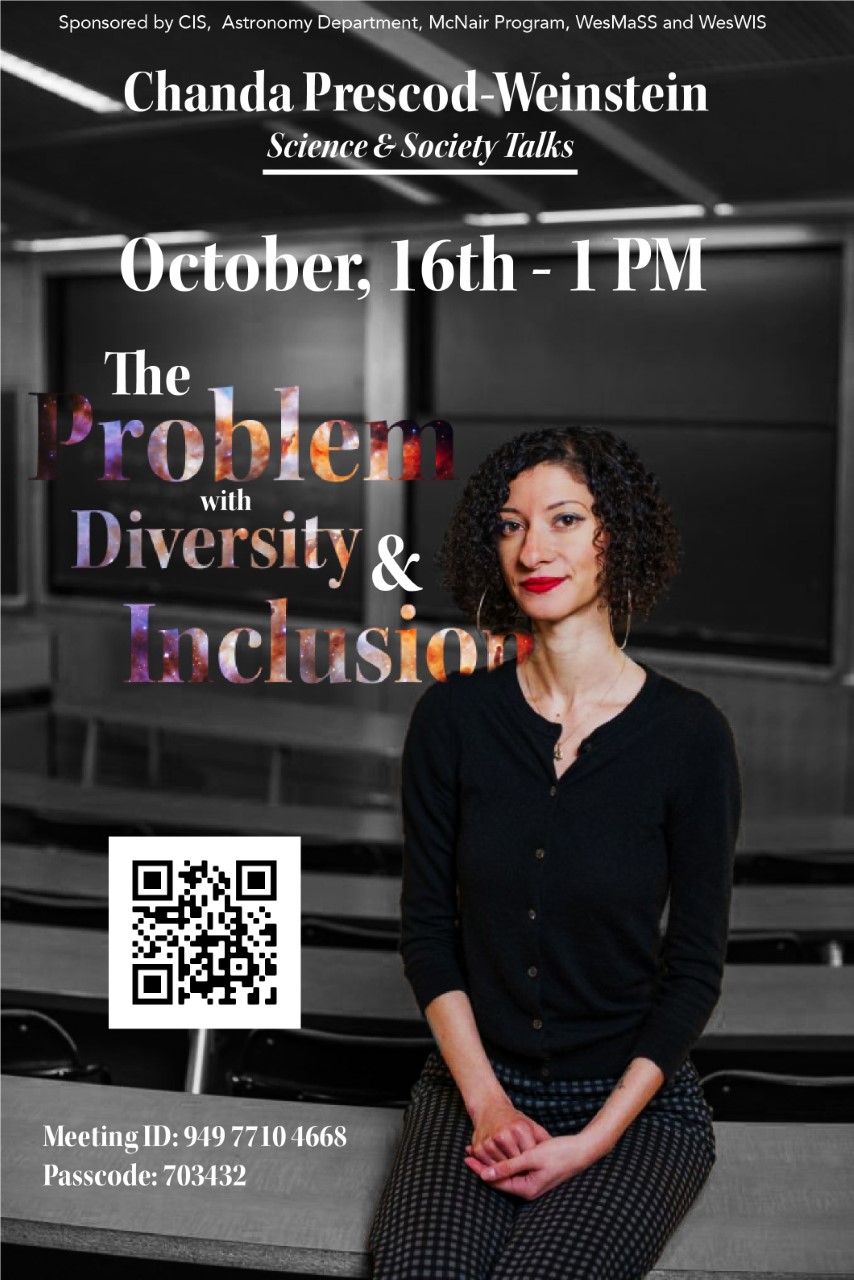 Scientific Imaging Contest
The Wesleyan Scientific Imaging Contest is an annual contest for student-submitted images from research that are scientifically informative, intriguing, and aesthetically pleasing. Images must be submitted with a brief description written for a broad, scientifically literate audience. Judging is based on the quality of the image and the explanation of the underlying science. 
ENTRIES: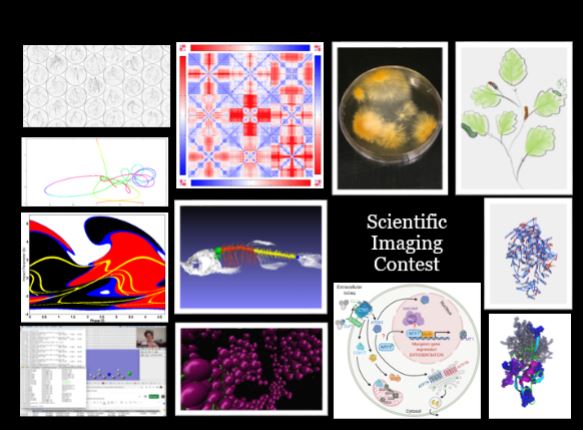 WINNERS!
1st Prize ($150): Osama Elgabori
This image is a color grid for a million orbit numerical scattering experiment of three-body collisions between a binary star and field star. The white space indicates fly-by events in which the field star misses the binary star, leaving the binary intact with a new orbit. The black and red points represent exchanges with mass 1 or mass 2 respectively, in which the field star takes the place of one the members in the original binary star and forms a new binary. Blue points represent dissociation events in which the binary dissolves and all three stars leave in different directions. Yellow points are trajectories that failed to conserve total energy to within 1% of the initial set up of the system.
2nd Prize ($100): Carol Dalgarno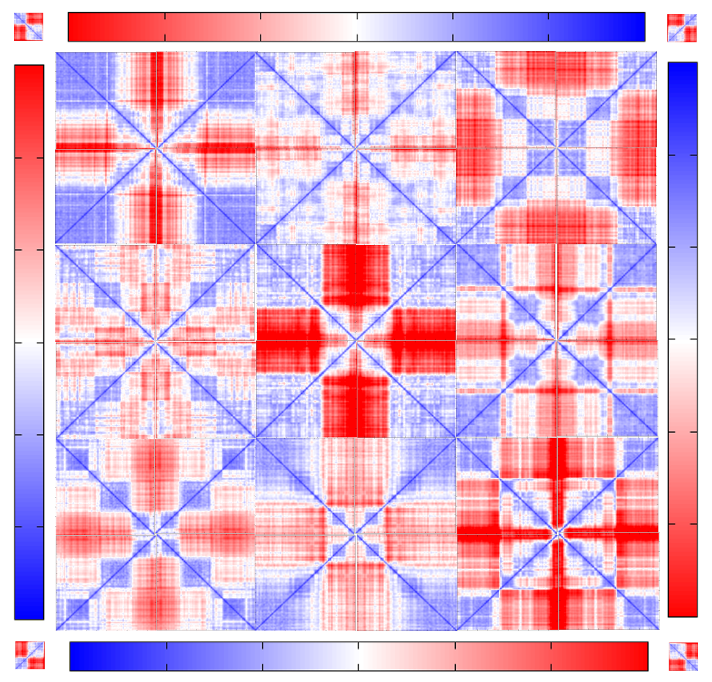 Molecular dynamics (MD) computer simulations allow us to study conformational changes in biological systems, producing a trajectory of snapshot frames that capture the movement of atoms over time. Using RMS2D calculations we can calculate the root mean square deviation (RMSD) between the atom positions of two frames in a trajectory. The output of the RMS2D function gives a matrix of all possible frame-to-frame RMSD calculations for a single MD trajectory. These matrices are plotted as heat maps where red indicates less similar structures (higher RMSD) and blue indicates more similar structures (lower RMSD). This image shows RMS2D heatmaps of ten 50 nanosecond MD simulations of the decoding center of the yeast ribosome with each heat map copied and rotated three times. Each simulation has its own distinct pattern of red and blue blocks, suggesting that the system samples many different transiently stable conformations over the course of the trajectory.
3rd Prize ($50): Jolie Villegas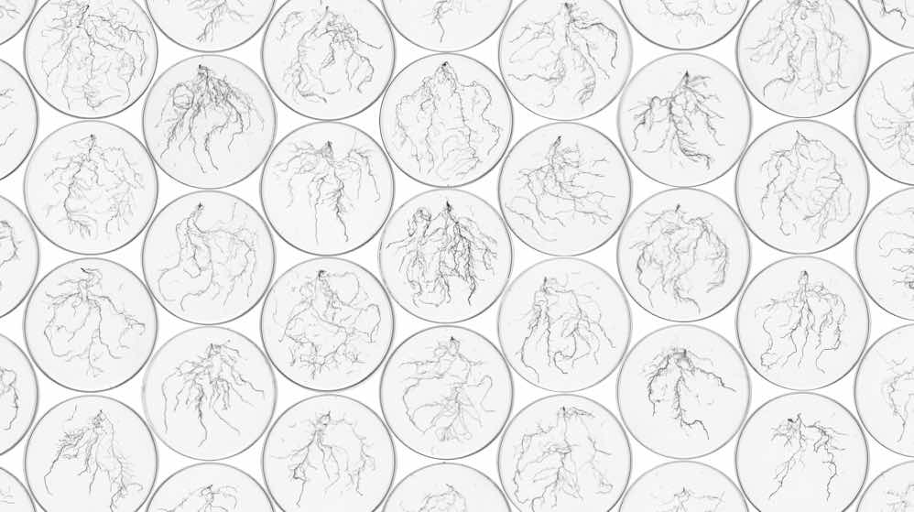 My submission is a curation of Polygonum cespitosum root scans. Rather than submit a digital image of a single root, I created a collage to show the beauty in diversity that exists within populations and life in general. While these plants appear so simple and similar above ground, their complex root systems reveal that there is so much more to life beneath the surface.
News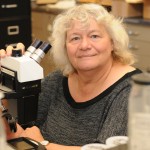 Ellen Thomas, Harold T. Stearns Professor of Integrative Sciences, Smith Curator of Paleontology of the Joe Webb Peoples Museum of Natural History, and University Professor in the College of Integrative Sciences, is the recipient of the 2020 Joseph A. Cushman Award for Excellence in Foraminiferal Research. At Wesleyan, Thomas investigates oceanic benthic foraminifera (eukaryotic unicellular…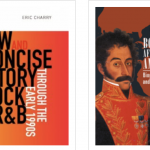 Several faculty have recently authored or co-authored books, book chapters, and articles that appear in prestigious academic journals. BOOKS AND BOOK CHAPTERS Eric Charry, professor of music, is the author of A New and Concise History of Rock and R&B through the Early 1990s (Wesleyan University Press, 2020). Robert "Bo" Conn, professor of Spanish, is…
See all News