Wesleyan's Presciption Drug Program
Wesleyan's prescription drug program is managed by Cigna. You pay one unified premium for the medical and prescription drug programs. For detailed information, please review the prescription section of the Summary Plan Descriptions on the website page for each individual medical plan.
Cigna 90 Now
Wesleyan University medical plans include a maintenance medication program called Cigna 90 Now.
If you choose to fill your prescription with a 90-day supply, you must use a 90-day retail pharmacy in your plan's network. You can also use the Cigna Home Delivery Pharmacy. Important Note: Please confirm the pharmacy network for your 90-day fills. Visit Cigna's 90 Now page for more information.
If you choose to fill your prescription with a 30-day supply, you can use any retail pharmacy in your plan's broader network.
Where you can fill a 90-day prescription:
With Cigna 90 Now, your plan offers a retail pharmacy network that limits where you can fill your 90-day prescriptions. You will still have access to a robust network of providers. They include local pharmacies, grocery stores, retail chains, and wholesale warehouse stores—all places where you may already shop! If you prefer the convenience of having your medications delivered to your home, you can also use Cigna Home Delivery Pharmacy to fill your prescriptions. For more information about your new pharmacy network, visit Cigna's 90 Now page.

Value Drug List
To see a current list:

Visit mycigna.com.
Once you're registered, log in and select "Estimate Health Care Costs."
Select "Get Drug Costs."
Certain brand-name drugs that are also available over the counter will be dispensed as a generic drug only (for example, drugs to treat acid reflux).

Pre-authorizations are needed for specialty drugs. Your provider's office will coordinate this with Cigna at the time you are given a prescription.
ID Cards  
ID cards need to be presented at the pharmacy counter when filling a prescription for members to use their benefits. Old cards should be disposed of as they will no longer work.

 

ID cards have important information that is needed for processing the pharmacy claim.

 

Pharmacists will need to use the BIN, PCN, and Rx Group number to access benefits. We have let our retail network pharmacies know that all three elements need to be used.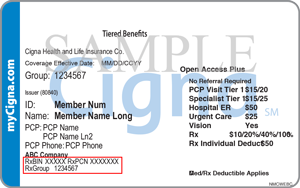 Questions?
Call the toll-free number on the back of your Cigna ID card. You can also chat with Cigna online at mycigna.com, Monday–Friday, 9:00 am–8:00 pm EST. Wesleyan's group number is 3188492.

Common Pharmacy Terms
Prior Authorization (PA) – Cigna will review information your doctor provides to make sure you meet coverage guidelines for the medication. If approved, your plan will cover the medication.
Step Therapy (ST) – Certain high-cost medications are part of the Step Therapy program. Step Therapy encourages the use of lower-cost medications (typically generics and preferred brands) that can be used to treat the same condition as the higher-cost medication. These conditions include but are not limited to: depression, high blood pressure, high cholesterol, skin conditions, and sleep disorders. Your plan doesn't cover the higher-cost Step Therapy medication until you try one or more alternatives first (unless you receive approval from Cigna).
Quantity Limits (QL) – For some medications, your plan will only cover up to a certain amount over a certain length of time (for example, 30 mg per day for 30 days). Your plan will only cover a larger amount if your doctor requests and receives approval from Cigna.
Education and Support Resources